Makris edges Laucke in season opener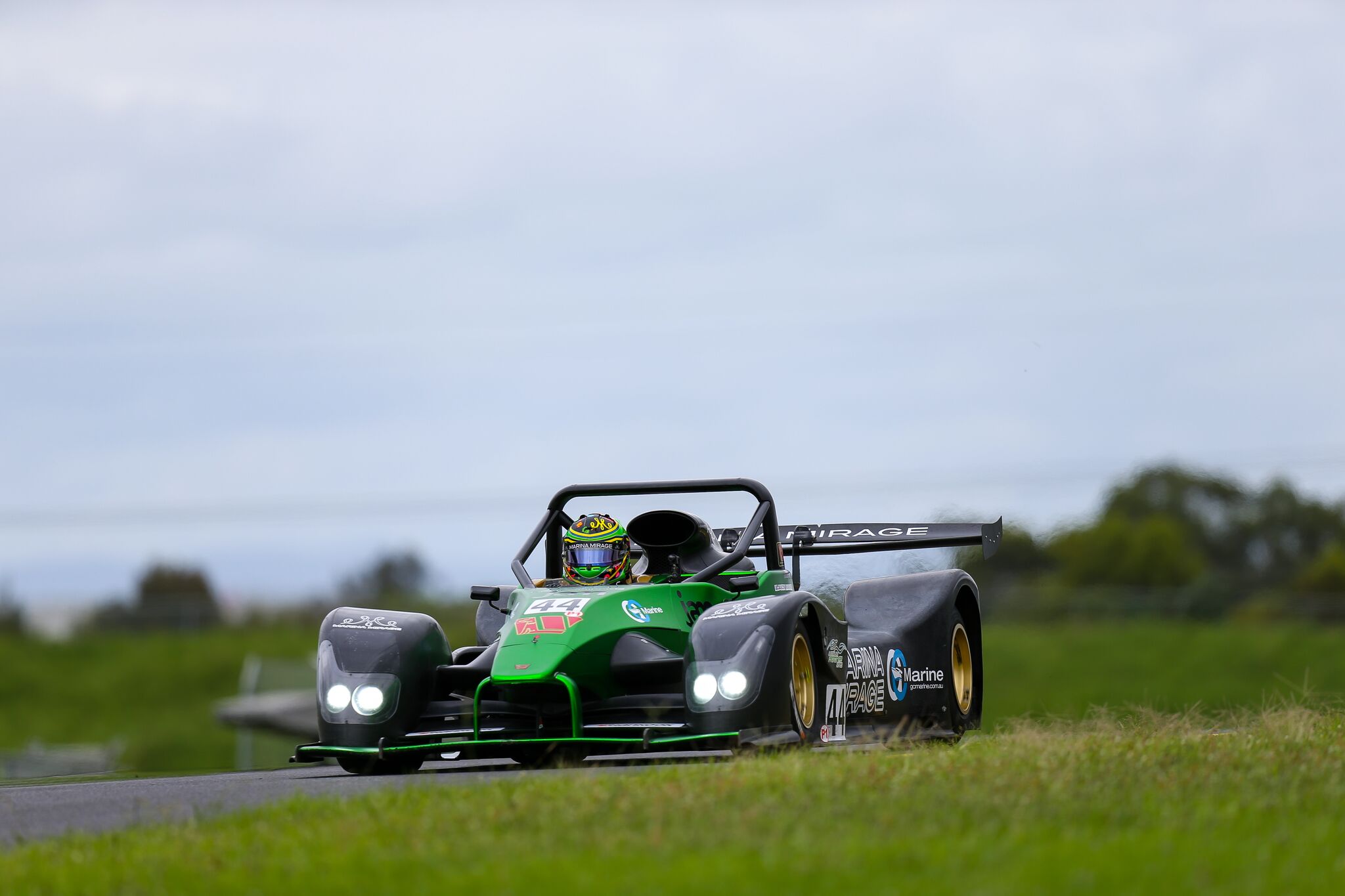 Mirage Racing's Jason Makris has won an action packed first race of 2020, winning by less than half a second over Jam Motorsport teammate Mark Laucke.
It was a lights to flag victory for Makris at Sydney Motorsport Park, but it wasn't an easy race for the 2018 Series winner, with Makris' mirrors full of Laucke's Wolf Tornado for the entire race.
The race was a story of two halves, with Andrawos Auto's Philip Andrawos losing a wheel on lap five and forcing race control to call for a safety car.
While Makris was able to hold off Laucke on the restart, there was further drama just metres behind the front runners. After a strong start, fortunes changed for Hughes Supercar Services' Phil Hughes, with the Radical SR8 driver copping a 30 second penalty after he overtook Jam Motorsport's John-Paul Drake before the control line – and while Hughes ultimately crossed the finish line in third, his penalty saw him tumble down the field to finish 13th.
That penalty promoted Drake from fourth to third to round out the top three.
Makris' perfect start to the season left the Wolf Tornado driver feeling strong ahead of Sunday's second and final race of the weekend.
"I feel like I got full marks with that win," Makris said.
"I also feel like I pipped Mark (Laucke) for fastest lap, which is good. He really challenged me today. When we were racing, he gave me a good hard fight.
"Now we get on with it tomorrow. It's going to be longer and it's going to be sunnier. I am ready. Bring it on."
Meawwhile, Laucke was delighted with second, thoroughly enjoying the battle with Makris.
"That was enormous fun. It was even more fun because on three or four corners, I was a bit quicker than he was," Laucke explained.
"He (Makris) knew it. The more I pressured him, the more erratic he got, after a few laps I thought I was going to have him but then we had the safety car.
"I was just happy with the way I put pressure on him. That's the fun of racing. It's the fighting for position, it's getting in the mind of your competitors."
It wasn't all smiles for Drake in third, with his car suffering some gremlins that will need to be rectified ahead of tomorrow's race.
"I feel lucky," Drake said post-race.
"I am just having a couple of problems with my breaks. There is a little bit of work to do overnight.
"I knew there were some problems and it got worse over the course of the evening. I had my hands full today in what was a really challenging race."
James Michael Homes' Michael Naguib ended the race where he started in fourth, one place ahead of 991Racing.net's Chris Perini in his Garth Walden Racing prepared entry, the best of the Radicals.
Meanwhile Glen Stallbaum was the best of the Hankook Cup competitors, finishing in sixth outright.
Crews will now prepare their cars for Sunday's longer 35 minute race, which gets underway at 10.14am on Sunday as part of the Production Car Nationals race meeting.
The final race will be live streamed on the Australian Production Cars Facebook page.
Race one results:
(Competitor, total race time, fastest lap)
1. Jason Makris, 27:48.9617, 1:29.4615*
2. Mark Laucke, 27:49.4308, 1:29.4631
3. John-Paul Drake, 28:01.0817, 1:30.7877
4. Michael Naguib, 28:03.7958, 1:31.6921
5. Chris Perini, 28:04.5469, 1:31.6552
6. Glen Stallbaum, 28:06.3935, 1:31.7182
7. Paul Trengove, 28:06.6179, 1:30.9570
8. Peter Paddon, 28:10.3332, 1:32.4933
9. Nicholas Ashwin, 28:10.7011, 1:32.3775
10. Stephen Champion, 28:13.1668, 1:32.9011
11. Jonathon Canavan, 28:13.7698, 1:32.8367
12. Marty Ewer, 28:27.0122, 1:35.1743
13. Philip Hughes, 28:30.1265, 1:31.0141
14. Sue Hughes, 28:35.9310, 1:36.8073
DNF Philip Andrawos, -, 1:33.2491
Penalties:
Paul Trengove - 5 seconds (jump start)
Phil Hughes - 30 Seconds (Overtaking before the control line on race restart)