Trengove on top at Winton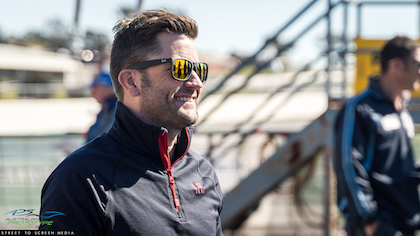 Paul Trengove has won the first race of the Australian Prototype Series' fourth round.

Trengove, who is only competing in his second round since a long lay off from racing, was able to show off the advantage of his OTR West WR1000 on Winton's tight track.
"It was awesome I knew this car would be strong around here, but I still wasn't quite sure if I would pull off the win," Trengove said.
"It was good racing with [Gonzalez] he's a clean racer and so am I, I'd like to think. First half of the lap was all his, and the second half's mine. He gets the straights and I get the back sections. It was a really good battle."
Despite a slow start, Trengove was able to move up through the field and enjoyed a tight battle with Realty Lane's Daniel Gonzalez throughout the race.

While Gonzalez and Trengove traded positions from lap-to-lap, Trengove was given a reprieve when Gonzalez made a slight mistake and ended up off the track, but was able to end the day in second.
"Stoked, absolutely stoked. I lost all front end grip this time round. There was a cool battle off with Paul [Trengove], who's done so well I'm so proud of him," Gonzalez said.
"Happy to see him take the win and I did my best to stay with him. I started losing all the grip we had. At the end of the day it was a good result, still working towards the end of the year. Absolutely stoked with second place."
David Barram's Chiron LMP3 ended race one in third after an opening lap battle with pole-sitter John-Paul Drake.

The duo almost came together at the penultimate corner, with Drake ending up off the track and at the rear of the grid.

"That was pretty good, I started fifth and got a good start into second," Barram said.
"Followed around the lap, had a challenge on JP down into the second last corner - it was all going well until it just skidded ahead, didn't lock the brakes, just lost traciton and went off the track. There could've been a touch but I don't think so. After that, brought it home and it was great."

Drake was able to recover and end the race in seventh, banking some valuable Series points.

The Australian Prototypes Series has three races on Sunday – with the middle race on Sunday not offering any Series points, instead competitors will be fighting for 'Father's Day/Abandoned Wives' race trophy – which includes some extra special prizes on offer.
The winner of the round's third race will receive a $150 Endota Spa vouchers, second place a $100 Endota Spa voucher and third a bottle of French champagne. All competitors will also receive their own Haighs chocolates in honour of the special day which they can gift to their wives or fathers or even themselves.

All three races will be live streamed on thenationals.com.au and the Austrailan Prototype Series Facebook page on Sunday.
Race One Results
1. Trengove
2. Gonzalez +4.459
3. Barram +14.092
4. Laucke +30.803
5. Fuhrmeister +39.693
6. Hughes +46.076
7. Drake +1:05.521
8. Stoeckel +1:04.830
9. Grant +1:20.609
10. Stoeckel +1 lap